Automated Piracy Detection
and DMCA Takedowns.
We scan the web and take the necessary measures to protect
your digital content against copyright infringments.
Why you should use
leaks

DOWN

.
We'll do the heavy lifting
All we need is your account name to look out for copyright infringments. We work in the background, protecting your privacy.
Leave it to the professionals.
We monitor your assets
10,000 pirate websites, forums, subreddits, discords and file hosts are scanned every day for your name and usernames.
We protect you
When we find your content is being infringed upon, we will send multiple takedown requests, targeting file hosts, forums and search engines.
We notify you
Evey time a leak is found, your dashboard will be updated in real time with all of our findings.
You will a receive a weekly report for your peace of mind.
Protect your
Digital Content
We remove any* unauthorized copy of your content by sending DMCA takedown requests to the responsible entities, such as:
Search engines (e.g. Google, Bing and Yandex)
* Limited by DMCA compliance
Information at your fingertips
We've hidden away all the complexity from you. Our simple but powerful dashboard will let you see what's happening in real time.
You'll also be informed via email about your protection status.
Manage and monitor your infringed content and the status of your takedowns.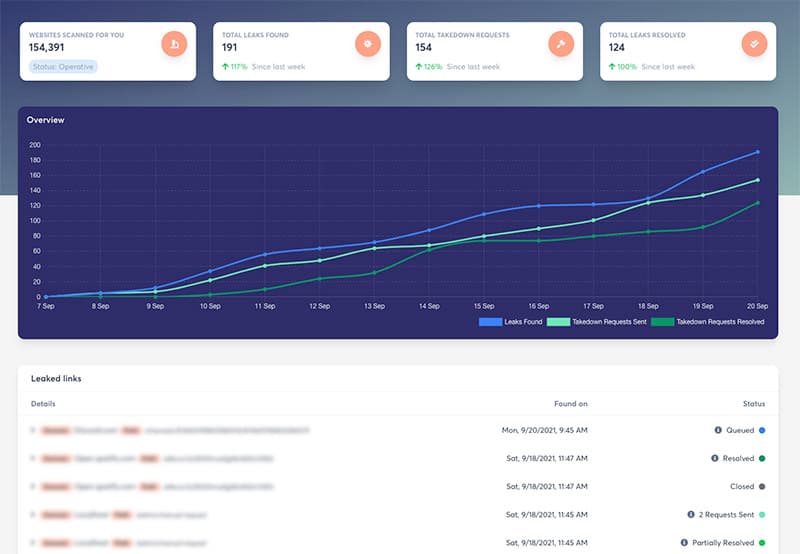 Is it for me?
By removing illegal copies you'll get more traffic to your original content.
If you don't have any leaks, protecting your IP is an investment on your future.
By quickly removing illegal copies, you will make it much harder for pirates to share your content.
As long as you're creating digital content, we can protect you.
That's why we are trusted by creators on these platforms: